3D Virtual Event Platform modules and features
AVIANET 3D Virtual Event Platform (VEP) is the supreme solution for hosting virtual events! Our 3D VEP is adaptable and features can be easily accustomed to your requirements. Additionally, our team of is always prepared to offer assistance and guidance through the whole process (pre-event, during event and after-event support). Each virtual event is individual and personal to the client, this is why we offer multiple branding and marketing options for you and your sponsors, exhibitors and partners.
The future of virtual events will be far more immersive than ever before and it will bring a new way of experiencing the world.
The 3D Virtual Event Platform is revolutionizing the way people connect and participate in virtual events. In a world where people can be anywhere, different tools and products make it easier and easier to meet and engage with colleagues, clients, customers and potential customers across the globe.
3D virtual events create a complete new experience for exhibitors, speakers and attendees. Just set up your event, create your avatar and you are ready to explore all kinds of different facets in the virtual 360° world.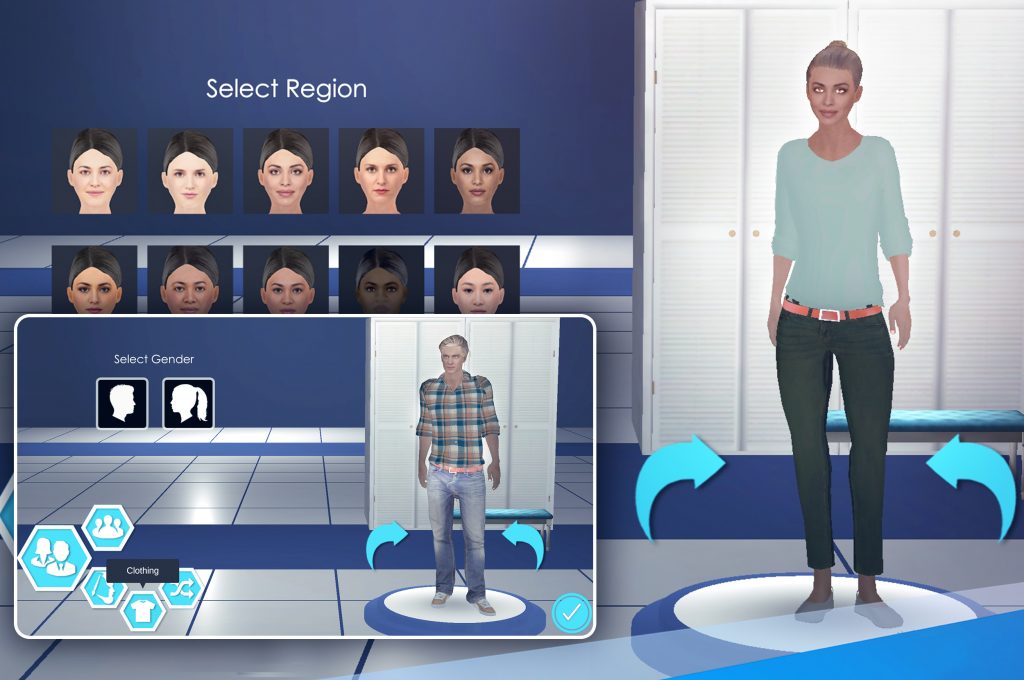 Avatar
Create your own Avatar for a highly realistic and interactive event experience. Different features such as ethnicities, attributes and dressing styles are available to customize the Avatar. In addition, there is an option to simply select a predefined Avatar for users that do not want to do it on their own. Chosen Avatars can be changed at any time during the event.
Participants can use the Avatar Action Menu to initiate interaction, express emotions to other attendees, share personal information, network, chat and more.
Event Hall & Event Garden
The entering point of your 3D event world, where you can customize your environment to create a long-lasting first impression on your attendees. All the necessary information for orientation – such as event agenda, meeting schedule and personal user action menu – can be found here, while attendees can start engaging with other participants via chat or contact technical support.
Individual Main Menu
User Action Menu
Welcome videos & branding materials
Event Agenda & Meeting Schedule
Chat
Search
Leader Board
Fast travel to all modules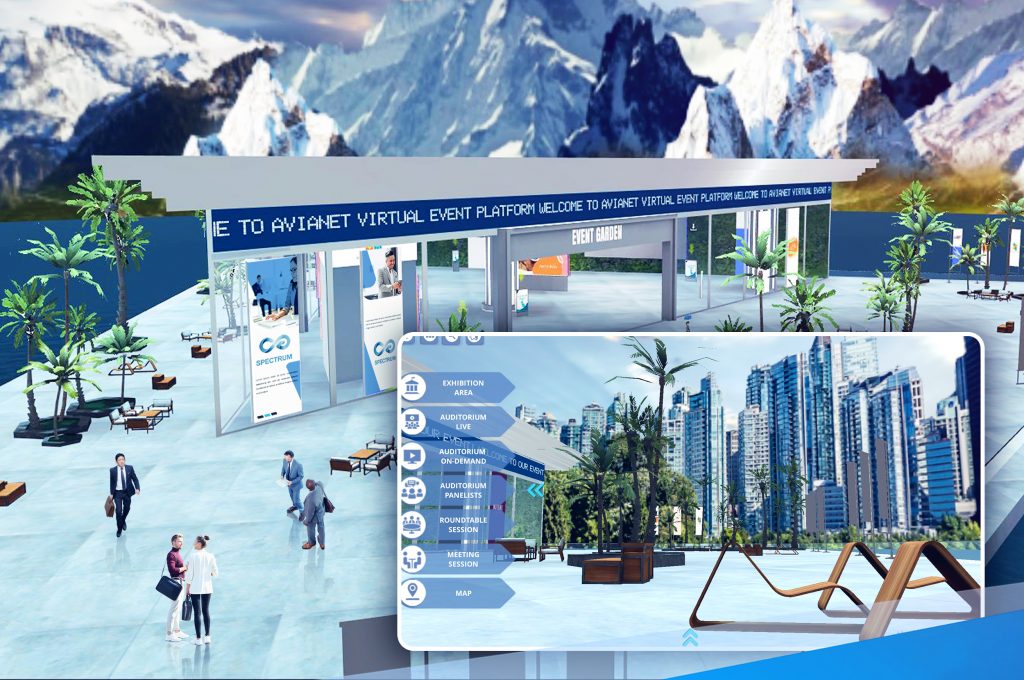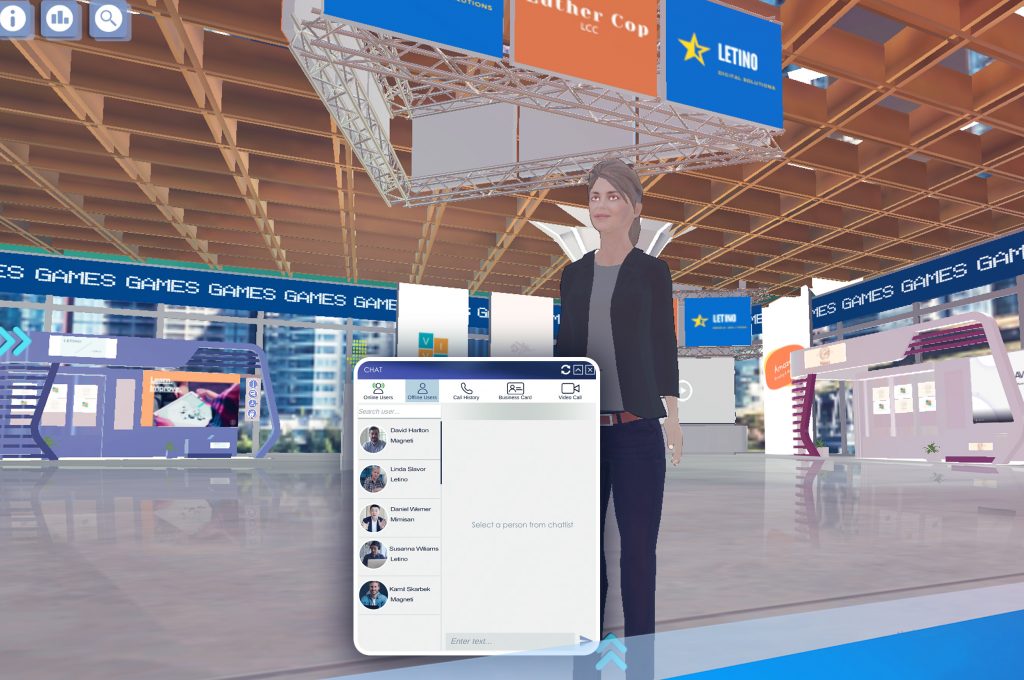 Exhibition Area
Your exhibitors can represent themselves by selecting different booth sizes and we provide branding customization for each booth. Booths can be individually set up with logos, slide decks, documents, videos and brochures.
Multiple booth sizes
Personalized branding materials
Custom background of the Exhibition Area
Information about each representative
Live chat, call or video call with booth representatives
Downloadable materials
Survey, Polling & Rating
On Demand Presentation
Pre-recorded videos offer your attendees to watch the materials at their convenience. On Demand Presentations are time efficient, they are in high demand among attendees and they are user friendly for all participants and presenters. Participants can enjoy the materials and re-watch them multiple times with no constraints.
Pre-recorded Videos
Q&A
Chat
Survey, Polling & Rating
Custom branding and color scheme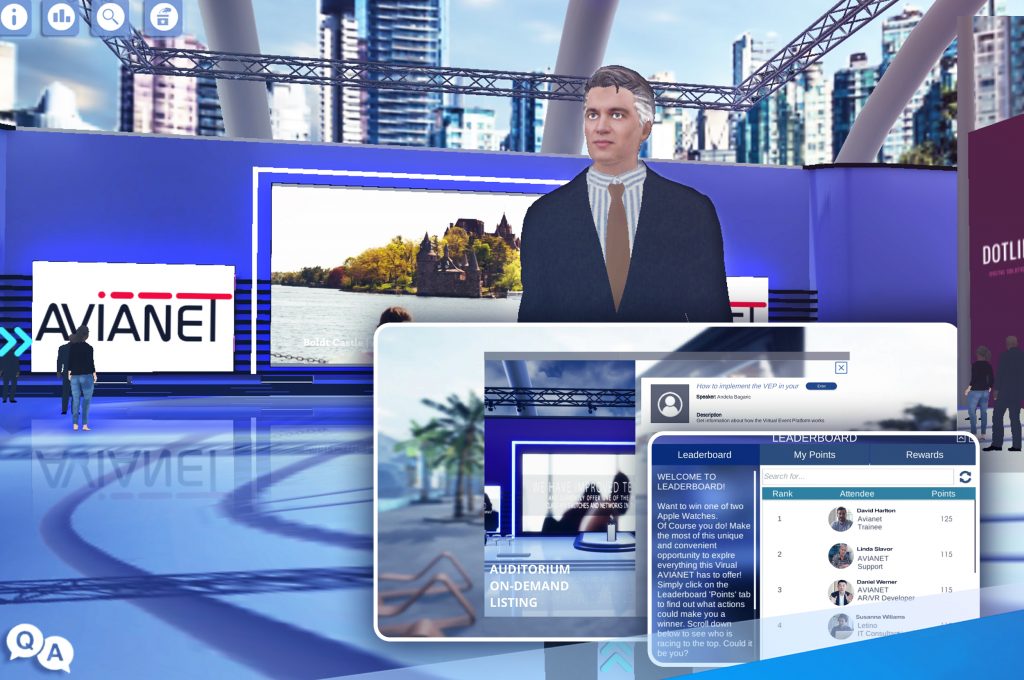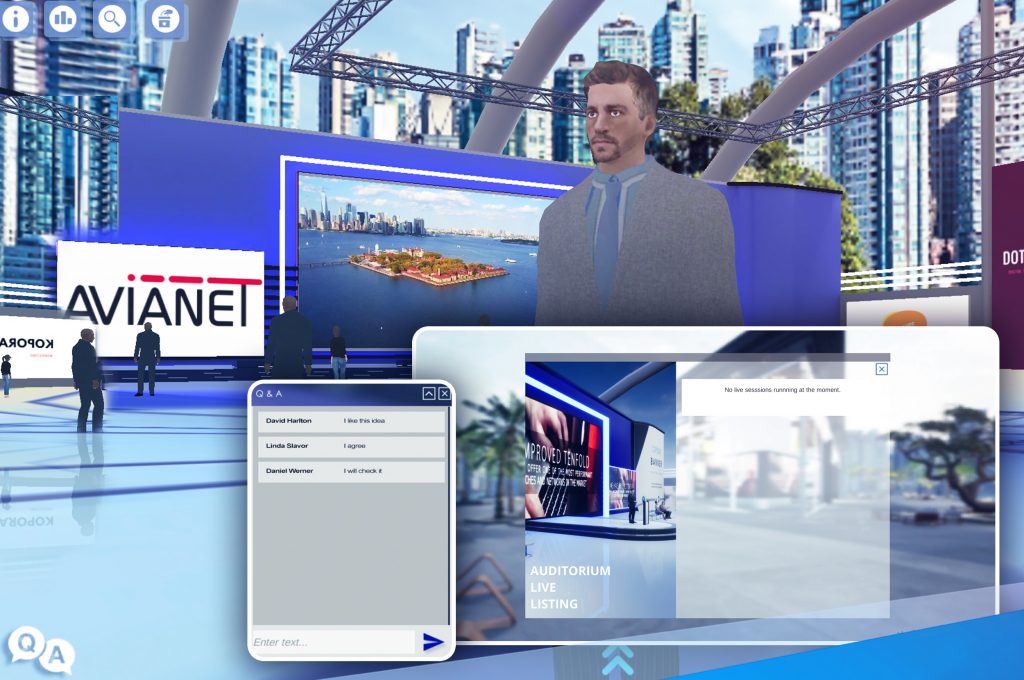 Live Presentation
Speakers can present their content in real time to an unlimited number of attendees. Each presenter can choose to share videos, slide decks, streaming or use screen sharing option. While attending the presentation the participants have multiple options to engage and network with each other. 
Live video of the presenter
Streaming, slide deck or video option
Screen sharing
Attendees have 3 camera angles of the content
Q&A
Chat
Survey, Polling & Rating
Custom branding and color scheme
Live Panel Discussion
Moderate live presentations with multiple panellists to your audience. Your panelists can share videos and slide decks with attendees, while the moderator can decide the presentation order and presentation duration time for each speaker.
1 Moderator
Moderator Control Panel
Multiple speakers via live video
Slide deck and video options
Attendees have 3 camera angles of the content
Q&A
Chat
Survey, Polling & Rating
Custom branding and color scheme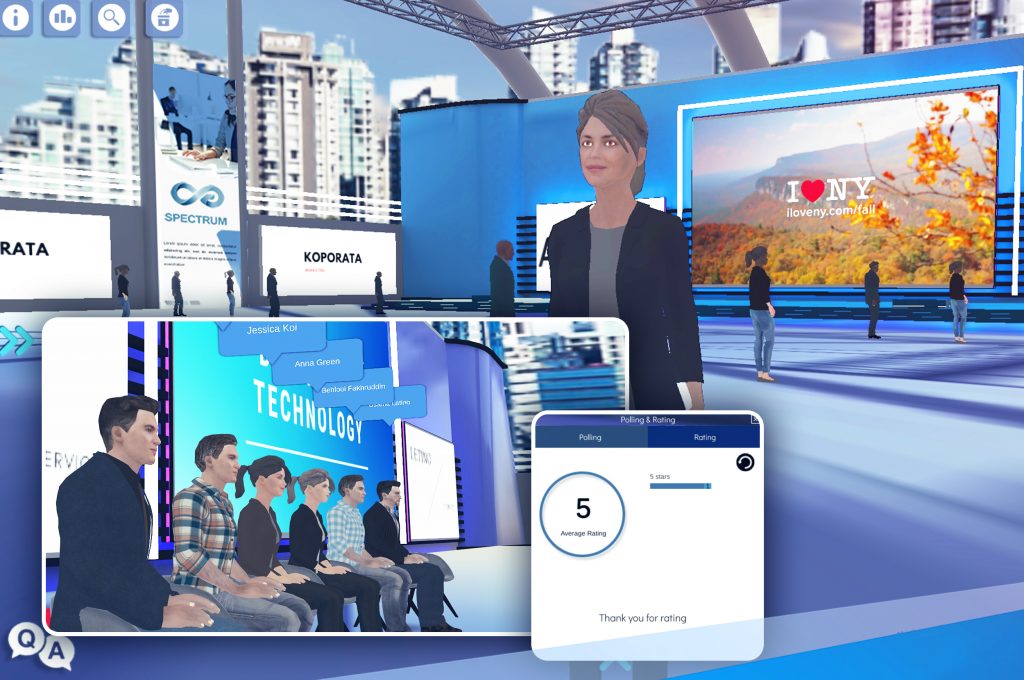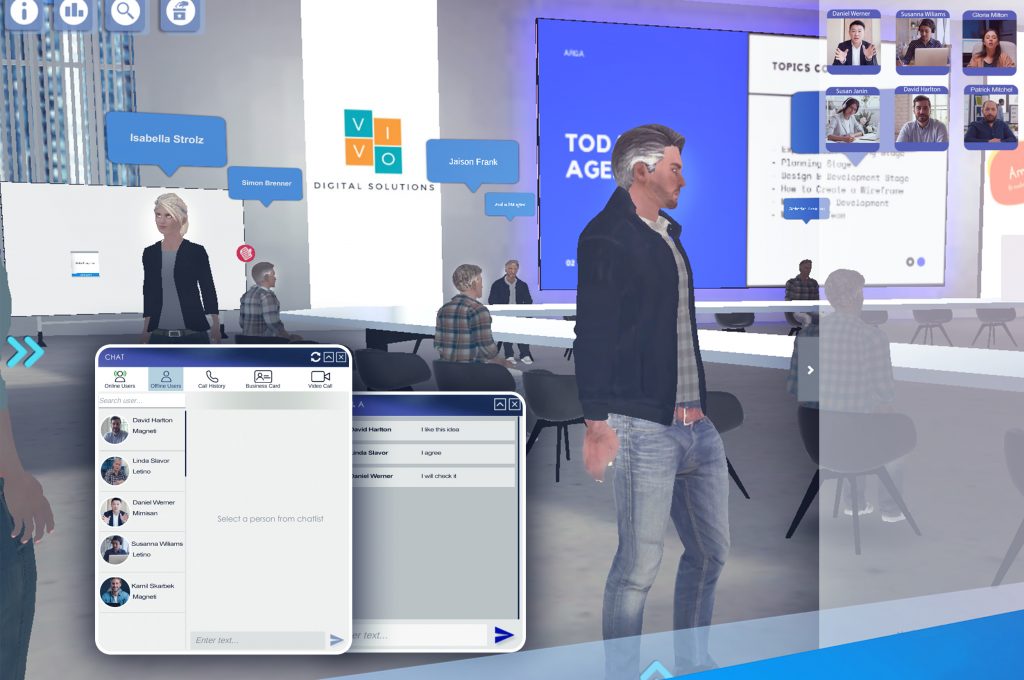 Round Table
You can organize VIP closed group sessions with invite-only attendees, which allows the speaker and the participants to connect via live video streaming. Maximize engagement while using the white board for interactive notes during the meeting.
Live video for all attendees
Streaming, slide deck or video option
Screen sharing
Attendees have 3 camera angles of the content
Interactive Whiteboard
Chat
Survey, Polling & Rating
Custom branding and color scheme
One to One Meeting Room
Provide private individual meetings rooms for your exhibitors and attendees. Both parties can schedule, edit or delete their meetings and interact via live video streaming.
One host and one attendee
Meeting agenda
Live video streaming
Streaming, slide deck or video option
Chat
Screen sharing
Custom branding and color scheme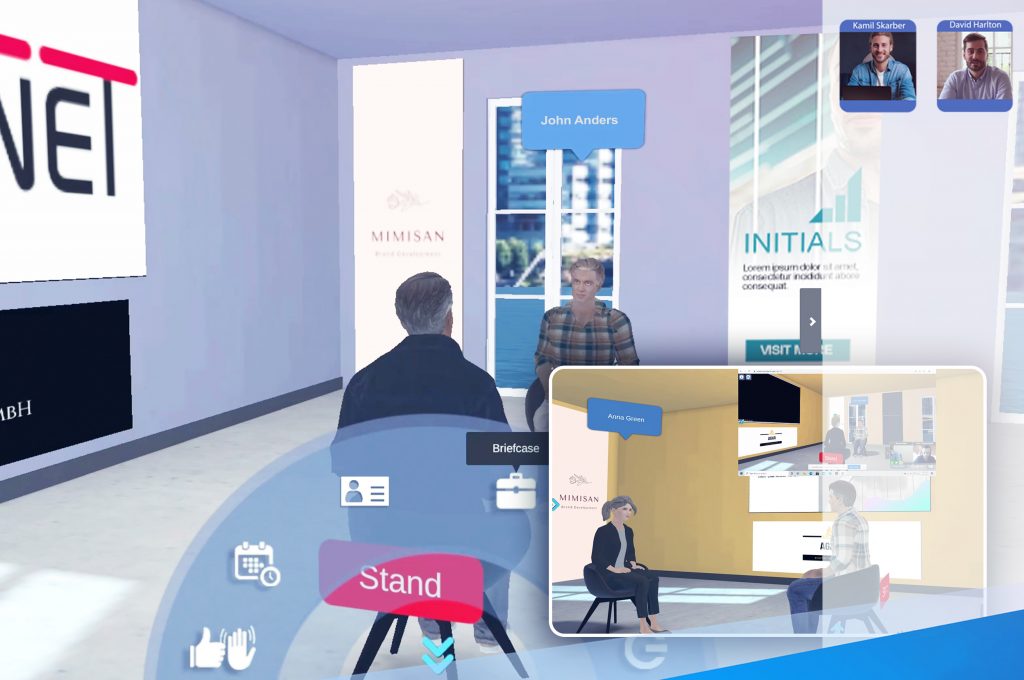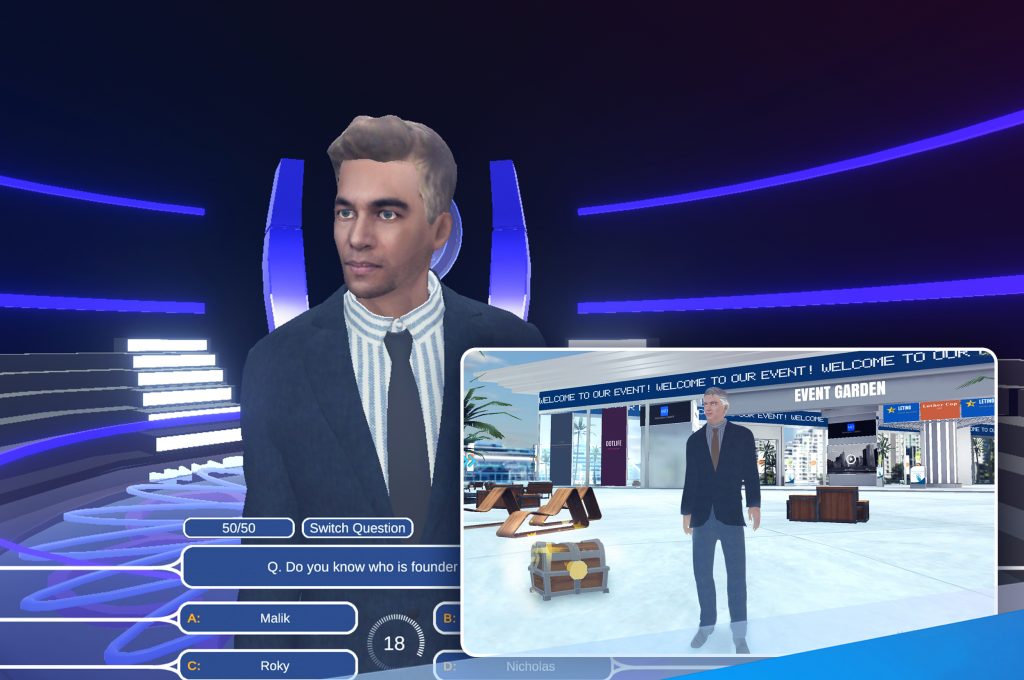 Gaming
Boost your event engagement even further with interactive gaming options. Trivia Quiz and Treasure Hunting can be set up for your attendees to earn points and rewards during the event. It is a great opportunity to involve sponsors and partners for promotions – from downloadable materials to vouchers or gifts – as well as for your attendees to participate in enjoyable event activities.
Attendees can follow their rankings on the Leader Board, based on your pre-defined point-collection system.
Why choose AVIANET for your 3D events?
Both proficient users and non-tech savvy users are able to proficiently navigate the 3D Virtual Event Platform and enjoy all features the platform offers.
Internally developed platform allows extreme customization of the event and personalized packages for each client.
Storytelling by creating a story around the event with videos, presentations, screen sharing, brochures, banners and booths the 3D Virtual Event Platform wins over the attendees and creates a long lasting community.
Generating a seamless dynamic online presence is easy with value creating virtual events that are globally accessible.
Sustainable solution: cutting cost, time efficiency and saving the environment at the same time.
We oppose attendee fatigue with real time user interaction, networking, leadership board, collection of business cards, real time games and more.
INCREASE YOUR ROI WITH 3D VIRTUAL EVENTS
With AVIANET's 3D platform, technology and a 360-degree view; you feel like you are in the room with your virtual audience while creating a very personal experience for each attendee.
A next-generation 3D Virtual Event Platform accommodates any type of occasion, from small meetings and conferences to large trade shows, exhibitions and more.
We are pleased to offer our clients the option to:
Simplify and increase the efficiency of their events
Cut down on travel costs and time commitment
Maximize ROI with our internally developed platform
Engage the entire audience with avatars in a 360-degree view
As exciting as it is to imagine new ways of creating events and experiences, it can be challenging to plan and execute them.
That's why we decided to build AVIANET´s Virtual Event Platform 3D. It's the only platform in its class that's built with cutting edge, state-of-the-art technology and an incredible user experience.
Intrigued to increase efficiency of your events with AVIANET'S 3D Virtual Event Platform?
Contact us today and see how can AVIANET elevate your events!